Drawer runners 1100mm
Drawer runners 1100mm
Highest-quality ball-bearing drawer runners 1100mm are ultra-durable runners specially designed for the largest drawers we can imagine. They are rarely suitable for kitchen or room cabinets, but they can be found in large built-in wardrobes, specially designed wardrobes, as well as in workshop and office furniture.
In this category, we present various types of 1100mm drawer runners. These products may differ in the type of material used for production (steel, nickel, aluminum or aluminum-zinc alloys), height (most often H53), color, and other parameters. All products are completely new and can be ordered in almost any quantity. As we operate internationally, we handle large and small orders; individual customers and furniture manufacturers.
You may also like: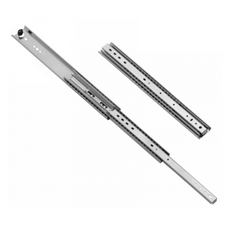 Technical data: Ball bearing drawer runners 1100mm H53  Producer: Furnica  Length: 1100mm...
How to choose large drawer runners (1100mm)?
Heavy-duty drawer runners may not be as easy to pick up as standard products. When choosing guides, check whether the selected offer concerns one piece of guide or a pair (left and right). You do not have to worry about the assembly, because the manufacturer provides diagrams for proper installation. 1100mm heavy-duty drawer runners have a reinforced structure, and their installation is slightly different - additional bolts and bridges are used to secure the connection, among other things. These solutions are designed to increase the strength of these mounting elements. Thanks to this, 1100mm guides can withstand heavy loads such as 130-140 kg.
Selected products in the Furnica store are covered by a special type of guarantee. FurniCore Quality Assurance for guides means that you can be sure that the product you buy will work properly for many years. In the case of selected 1100mm drawer runners, FurniCore Quality Assurance can provide a guarantee for up to 50,000 open-close cycles. Choose the best 1100mm long guides and mount them comfortably in your furniture. You can also use our products in your own DIY projects or at a manufacture. Be sure to check out other Furnica's products as well!
See related categories - Drawer runners: