Drawer slides auto-lock
Smooth movement with the auto-lock ball bearing slides
Ball bearing drawer runners will give you the smoothest movement of your drawers that you could ever experience. Everything will move completely trouble-free and without any reservations, so that you can be satisfied with the work of these drawer slides. Also, they have an auto-lock system, which basically means, that the drawer will not open and to unlock it, you push it lightly and the drawer will open to its full extension, so this is a really nice feature to have.
You may also like: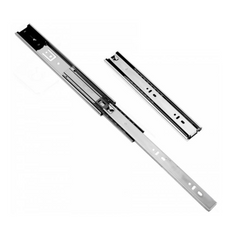 Technical data: Ball bearing slides Auto-Lock H45  Producer: Furnica  Length: 250-700mm ...
Full extension will save you time and energy
The zinc coated steel makes these drawer guides a durable and strong construction, so they will not break down and they can stay with you for much longer. And with their feature called full extension – you will really want them to stay for a very long time in your house. This is a very practical feature, so you will love it right away when you get to try these ball bearing drawer slides. You will not have to spend too much time on searching for things because everything will be in the reach of your hands, and you will see everything well, so you will just grab whatever you want from now on without getting irritated!
See related categories - Drawer runners:


Check out the other categories: