Drawer runners 1000mm
Drawer runners 1000mm
1000mm guides are extremely long mounting accessories. Despite the fact that they support exceptionally large drawers (usually also very deep and wide), they are perfectly prepared for their task. This is due to the specially reinforced structure of this type of runners. Made of the most durable materials, these robust drawer runners 1000mm are designed for extremely intensive use over a long period of time. What distinguishes selected Furnica products from others is additional warranty coverage - FurniCore Quality Assurance. The selected guides have a warranty of 50,000 open-close cycles. Taking into account the fact that we use drawers statistically several times a day as a standard, this type of product is guaranteed to work properly for many decades. When performing two full cycles of opening-closing a drawer with runners covered by FurniCore Quality Assurance and taking into account the fact that the year is statistically 365 days, the guaranteed shelf life of the selected mounting accessories can be up to almost 70 years!
You may also like: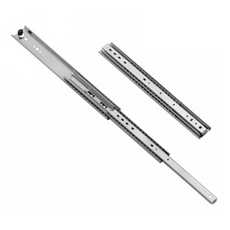 Technical data: Ball bearing drawer runners 1000mm H53  Producer: Furnica  Length: 1000mm...
Large and heavy-duty drawer runners 1000mm - installation tips
Heavy-duty drawer runners (1000mm) for wardrobes, workshop furniture and special uses have to be stronger than others. One pair of guides of this type can have a maximum load of up to approx. 140 kg. This means that correct assembly is even more important. The guide has an attached assembly manual and all necessary assembly accessories. Mounting screws should be installed in designated places and they must be firmly attached to the furniture. In the case of such large guides, we are dealing with a more advanced locking system. Mounting screws are placed on both sides - the movable part and the body part. Check carefully in the installation diagram what the different holes on the guides are for, as there is a slightly different arrangement of the mounting holes on the drawer slide part, different on the side board slide. Keeping all the indications, the installation should not be a problem even for no experience users.
See related categories - Drawer runners: