Drawer runners 850mm
Drawer runners 850mm
850mm drawer runners are commonly used in industrial and corporate furniture, but also in large wardrobe cabinets. Due to this size, the guide has to be extremely durable. This is why Furnica's heavy-duty drawer runners (850mm) can have a maximum load capacity of up to 150kg. The products ensure trouble-free and silent operations. They are robust and durable enough to withstand the greatest strain and intensive use. You install them once and you can forget about them, because no maintenance is required. Due to the large size - 850mm - only the recommended ball-bearing drawer runners are available in this category. Depending on the model, their design may allow the drawer to be fully extended (full extension). There are many additional modern solutions that can help with everyday duties, such as self-closing, push-to-open and soft-close mechanisms. To find out the parameters of the selected 850mm guide set, simply go to the product sheet. Please note that some slides are sold separately and some are sold as a two-piece set (left and right runners).
You may also like: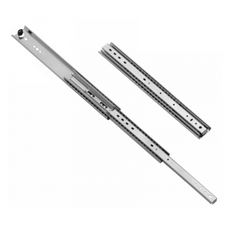 Technical data: Ball bearing drawer runners 850mm H53  Producer: Furnica  Length: 850mm ...
Drawer runners 850mm - highest quality furniture accessories
You can buy guides in any quantity. For years, Furnica has been providing renowned furniture accessories and fittings to countries from all over the world. We sell individually and wholesalers, supplying guides, assembly systems and tools to individual customers, furniture stores, assembly workshops and production plants. That is why you can be sure of the highest quality products.
It is no different in the case of 850mm drawer runners. These products are usually made of zinc-aluminum alloy, zinc-nickel, galvanized steel or reinforced steel. The excellent parameters, including the durability of our guides, are confirmed by positive customer feedback. Choose the best 850mm long guide. Enjoy your shopping and check out the entire Furnica store to see what else we've prepared for you!
See related categories - Drawer runners: