Hydraulic supports
Hydraulic supports that are effortless to mount
If you are scared about the mounting process of hydraulic supports, we can tell you that it is not that hard to do, and with little time, you will be able to do it yourself. You should mount them to the sides of your cabinet and your cabinet's doors. You do not really have to have any professional knowledge about it so you do not have to worry about it too much. And when you are done, you will finally be able to enjoy opening your cabinet's doors every single time!
You may also like: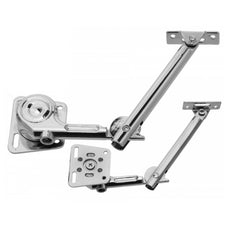 Technical data: Hydraulic Door Supporter PH01  Material colour: Chrome (G01)  Material: S...
Explore new kind of solid construction
Hydraulic door supporters can give you much more than only convenience. Of course, it is extremely important, but these kind of products can offer you much more. The build quality of them is really amazing. They are solidly constructed, they are strong and very durable. They can ensure you with their longevity, so you will not have to change it for a very long time. Thanks to that, you will save yourself time, energy, and money – who would not want that?
See related categories - 

Lift Systems: