Recycling bins for kitchen
Recycling bins for kitchens
Easy to use, practical and aesthetic looking - this is how our recycling bins for kitchens can be described. In this category, you will find the highest quality recycling bins with markings. These products match the pull-out kitchen recycling bins presented in other categories. Of course, their use is very wide. Products can be used as separate or alternative containers for recycled waste.
You may also like:
Technical data: Recycling bins for kitchen 60cm - 2 Buckets (2x15L)  Height: 300mm  Widt...
You may also like: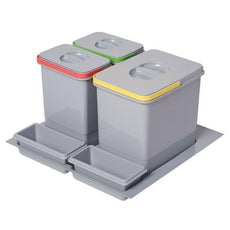 Technical data: Recycling bins for kitchen 60cm - 3 Buckets (15L+ 2x7L)  Height: 300mm  ...
Recycling kitchen bins – characteristics
You can choose, among others, from sets consisting of two or three recycling containers. Individual products may vary in size and capacity (standard is 15 l). Due to the fact that we are a British company, we like to offer British standards. Presented recycling bins for the kitchen are in line with British standards. The products are designed for kitchen cabinets and larger cupboards with a 600 mm wide front doors. To view the specification and the exact size of the given garbage cans for the kitchen, go to the product sheet.
Recycling containers for kitchen – huge load capacity
On the one hand, our products will easily fit in various types of kitchen cabinets, on the other hand, they will give the possibility of sorting really large amounts of garbage. The standard capacity of 15 litres means you don't have to waste time removing your rubbish every day. Crushed cans, plastic bottles or cartons will be super easy to sort and conveniently empty the recycling bin when the loading level is full!
Recycling kitchen bin – something that everyone should have!
In the era of more and more serious threats related to the natural environment, it becomes quite clear that everyone should take care of nature. Sometimes it is worth doing something more, but if it is impossible, first of all, do not disturb. In this case, this means minimizing unsorted waste. Anyone can do it! All you need to do is equip yourself with convenient waste containers such as those in this category!
Recycling bins – Furnica quality
Recycling bins for kitchens are products that match different cabinets. They were made of the highest quality materials. They are characterized by very good durability. They are stable and durable. If you're looking for the right recycling bin for your kitchen, you've come to the right place! Trust the quality of Furnica! We have been providing proven solutions in the furniture industry for years. We know how important functionality is. We invite you to place orders - we serve individual customers and wholesale orders!
See related categories - Waste Bins: