Floating shelf support
Floating shelf support
There are many methods for effectively hanging a shelf on the wall. One of the best is probably the use of good floating shelf systems. These types of supports are widely used in the furniture industry when assembling various furniture. It is also worth buying them if you want to hang a shelf yourself or modernize other pieces of furniture. Due to the high quality of workmanship, Furnica floating supports for shelves are second to none! We invite you to familiarize with the full offer of shelf support. At the top of the page, you can quickly go to thematically related subpages. On them, you can find products such as special furniture pins, metal supports for glass shelves, wardrobe shelf brackets, glass shelf supports and pelicans. All products were made of the highest quality steel, aluminium-zinc alloy with glass or plastic elements.
You may also like:
Floating Shelf Support (Concealed)
Technical data: Concealed Shelf Support  Material colour: Zinc   Material: Zinc coated steel  Minimum shelf thickness: 24mm  Shelf angle adjustment: Yes  Side adjustment: ±4mm  Height adjustment: ±4mm...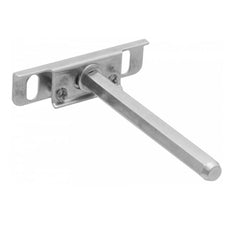 Technical data: Concealed Shelf Support  Material colour: Zinc   Material: Zinc coated s...
Why is floating shelf support the best way to hang a shelf?
There are many advantages to using floating shelf support systems. Certainly one of the most important advantages is endurance. Metal furniture rod is responsible for maintaining the entire shelf along with all things that are on it. Thanks to the durable construction, there are never major problems with it. In turn, the second important advantage of the presented floating shelf supports is aesthetics. These elements are naturally hidden, and therefore the shelf may look quite effective.
Floating shelf supports – assembly method and construction
Floating supports for shelves presented here consist of two elements. The first one is usually mounted to the wall (sometimes to another part of the furniture, e.g. in large bedroom wardrobes). Installation is trouble-free, quick and requires drilling a hole in the wall. The second part is a long and massive furniture rod. This element is inserted into the hole drilled in the shelf. It is very important to make accurate measurements in advance. A hollow hole in the wood is better to be slightly narrow than slightly too wide! Anyway, this is how you put the shelf on here Furnica floating shelf system. Thanks to this, you gain great stability and you can put even very heavy things on the shelf.
See related categories - Brackets & Fittings: