Black wood screws
Blackwood screws
Undoubtedly, the most commonly used wood screws are products made of zinc, which are not additionally dyed. Universal colour makes such screws fit many furniture and have a wide range of use. On the other hand, this feature is not always our goal - sometimes you need screws of a specific colour. Blackwood screws, which are very popular among customers, are a great example of this. Dark screws are especially useful for dark wood, as well as other materials in such colours. Black screws in this category are available in different dimensional variants. They were made of steel, which is why they are extremely durable. These screws have high load resistance and ensure a stable connection. Head type is usually conical, thread type - full. PH and PZ screws are available. Choose the wood screws you need.
You may also like: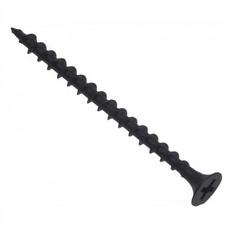 Technical data: Black Phillips Wood Screws PH2 - 3.5x55mm  Length: 55mm  Socket type:  PH2 ...
Best possible black wood screws
In this category, you will find reputable black wood screws. The presented products are suitable for various types of furniture. Remember that when you buy one set you get – depending on the selected product – 500 or 1000 screws.
Furnica – experience and quality
Furnica is a British company that has been building its market position for decades. Currently, we operate internationally, which is why we are able to offer very attractive product prices. Buy black wood screws now at the best price!
See related categories -
 

Wood screws: