Wood screws PH1
PH1 wood screws – best possible quality
If you are looking for good PH1 wood screws, you've come to the right place! In this category, we present all PH1 zinc wood screws with different, but mainly standard, dimensions. We invite you to familiarize yourself with our offer.
You may also like: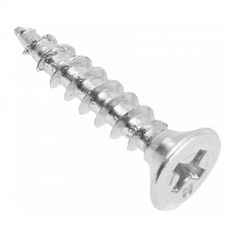 Technical data: White Wood Screws PH1 - 3.0x16mm  Length: 16mm  Socket type:  PH1  Materi...
Wood screws – professionals materials for stores and wholesalers
The wood screws presented here were made of zinc. Due to this, they have great performance parameters and are resistant to moisture. Universal look, natural colour of zinc means that you can use them for all furniture. By buying one set, you get a package containing up to 1000 pieces of wood screws! Buy well with Furnica - we deliver thousands of products to our customers every day! We serve individual clients, large companies, furniture stores, and wholesalers. Contact us to learn more!
What are PH1 wood screws?
PH1 screws are products with a generally accepted classification, meaning Phillips screws. The PH1 screws are therefore in the range of 2-3 mm in size. PZ1 also means that we are dealing with a cross-cut type screw. The end of the screw (screw head) is completely flat.
See related categories -
 

Wood screws: