Easy On Cabinet Hinges
Easy-on cabinet hinges
How to install cabinet hinges? That's one of these questions that are asked all the time. But you can avoid this struggle. All you need to do is to choose some easy-on cabinet hinges available in our store!
Extremely easy-to-install furniture hinges of the easy-on type do not require any assembly experience. The simplified structure maintains the full strength of traditional European type hinges. Hinges of this type are available at a very similar price. The biggest differences you will see are in the construction and the mechanism that holds the two parts together - the body and the furniture front.
Easy-on cabinet hinges are fastened with screws on both sides. The place for the screws is on the side of the hinge. These elements are very easy to install. One of the most popular solutions are the easy-on Frog hinges. They have an opening angle of 90 degrees. Unlike many other products of this type, they guarantee the absence of any gaps between the furniture body and the front. Thanks to this, the entire piece of furniture will be professionally fitted!
You may also like:
Standard
Technical data: Cabinet hinge 90° - FROG  Opening Angle: 90°  Soft-Close No  Material: Nickel coated steel  Colour: Chrome   High quality at a great price Furnica supplies...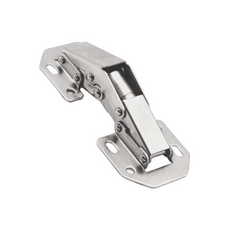 Technical data: Cabinet hinge 90° - FROG  Opening Angle: 90°  Soft-Close No  Material: N...
Easy-on hinges - and you don't need to worry at all
Easy-on cabinet hinges can be installed in kitchen cabinets, but also in many other pieces of furniture. Mount them to bathroom and room furniture; cabinets, bookcases, TV cabinets. Due to the simplified structure, these elements should not be attached to very heavy furniture fronts. Frog hinges will therefore not be a good solution if you are looking for structural parts for heavy wardrobes and similar furniture (but remember to check out our entire offer and other product categories!). Instead, easy-on cabinet hinges ensure free, quick and smooth opening of light to medium-heavy fronts.
See all products available in our store and order comfortably without leaving your home. Choose the right dimensions and materials. Be sure to check furniture compatibility. If you order larger quantities or in bulk - you get 100% free shipping. Enjoy your shopping!
See related categories - Cabinet Hinges: