Partial overlay cabinet hinges
Partial overlay cabinet hinges
Partial overlay cabinet hinges are mounting accessories whose main central element is slightly curved. Hinges are usually equipped with mounting plates, so mounting them is extremely easy. They fit the twin doors and are attached with EURO screws.
Partial overlay cabinet hinges are most often used when we need to mount a cabinet front. They work perfectly with sliding and center wardrobes doors. Such accessories are also perfect for the central fronts of furniture, if the left and right door leaves have hinges mounted to the sides of the wardrobe on the opposite sides.
In our store you can buy the best partial overlay cabinet hinges available in different variants. You can go ahead and choose between different colors, but most of all check the material of which the accessories are made. Partial hinges made of strong metal alloys, steel or galvanized steel are ideal for installation in heavy doors.
You may also like: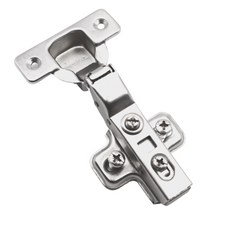 Technical data: Cabinet hinge 110° Soft-Close Twin Doors  Opening Angle: 110°  Soft-Close ...
You may also like: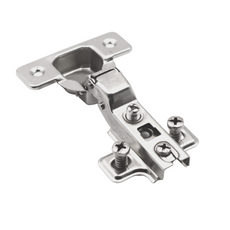 Technical data: Cabinet hinge 110° Twin Doors  Opening Angle: 110°  Soft-Close No  Cup Ho...
Partial overlay cabinet hinges - practical alternative to overlays
Due to the slightly tilted structure, partial hinges can be an ideal alternative to standard and full-overlay hinges. They are often used in kitchen cabinets, bedroom furniture and dining rooms. The special design makes it easy to use them to mount the fronts of closed cabinets with books, ceramics and decorations. For twin doors, there is no better equipment than professional partial overlay cabinet hinges that will guarantee durability and solidness.
Partial overlay cabinet hinges are assembled using classic mounting screws. The adjustment screws are located near the main mounting plate. Before installation, it is worth putting the hinge to the front and visualizing how the cabinet will be opened. Also, make sure not to confuse the mounting sides as they differ from those in european hinges!
Partial hinges do not need any additional maintenance. They are often made of nickel or steel. They do not get dirty easily, and the dust formed over time is enough to wipe with a damp cloth while cleaning the furniture.
See related categories - Cabinet Hinges: